SL360 Release Notes
We are excited to release the latest version of SL360 which includes new products and features to help you connect with new prospects and work more efficiently. In this release:
These are all now live in your account!
To learn more, please read the release notes below and/or sign up below for a demo in an upcoming webinar.
Order Email Marketing Campaigns
Now right from your SL360 account you can create and order an email campaign to reach targeted consumer or business prospects. After signing in, you'll notice a new tab in your account, Order Email Campaign. The workflow is nearly identical to ordering postal lists, with the same selection options available to choose from. Once your order is complete, our expert Digital Team will work with you to optimize, deploy, and manage your campaign from start to finish.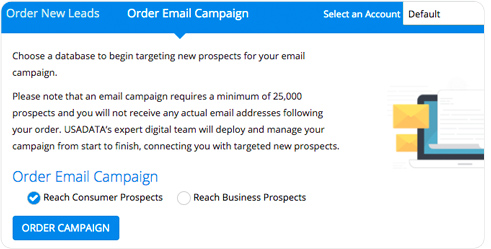 Refer a Friend and get a $25 Gift Card
When placing an order in your SL360 account, you'll notice on the Order Confirmation page a new section (see screenshot) allowing you to refer a friend to SL360. Complete the short form to invite your friends to SL360. They'll receive a special offer and you'll receive a $25 Amazon.com eGift Card when they place their first order.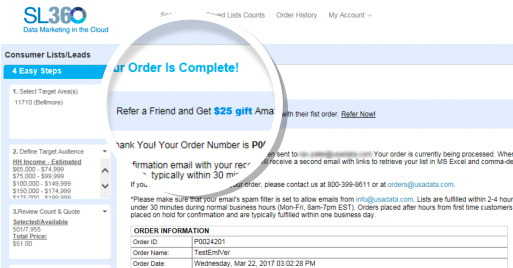 Sign in or Sign up with Facebook, Linkedin, or Google
It's never been easier to get started with SL360! Now you can securely sign in or sign up with your Facebook, Linkedin, or Google credentials. **Please note that if the email address associated with your Google, Facebook, or Linkedin account differs from the email address used for your SL360 account, a second account will be created for you.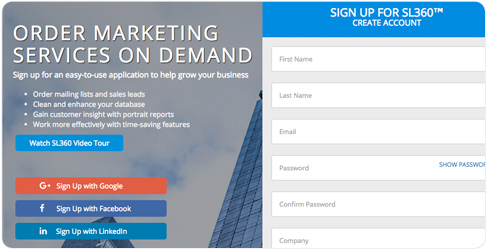 Upload ZIP Codes or Carrier Routes to View on a Map
Gain insight into your target area by uploading a MS Excel file of ZIP codes or carrier routes and viewing them on a map. The map will display the borders and label each area accordingly.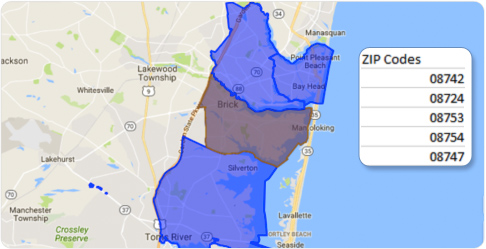 Full Screen Map Views
Easily expand any map in SL360 with a click of a button to view it in full screen mode.